Practical Threat Intelligence Applications and Tactical Considerations to Increase Resilience
Armed Assailant and Active Shooter incidents remain a critical concern within workplace, academic, and social environments. Join active shooter response expert Henry Miller, Allied Universal® Intelligence Services Director, Sean Schuhriemen, and Allied Universal's Director of Education Security Services,
Frank Spano, for part two of our Active Shooter Response Series (view part one here). 
Discussion Topics Include:
Deeper understanding of practical, on-scene, tactics and decision-making to aid in improving survivability, safety, and threat resolution
Methods for leveraging threat intelligence throughout the aggressor lifecycle from pre-attack indicators and active threat situations through recovery and reconstitution
Organization-level strategies to improve command and control, coordination with response agencies, and dealing with the devastation, trauma, and impact often associated with armed assailant/active shooter incidents
Presented By: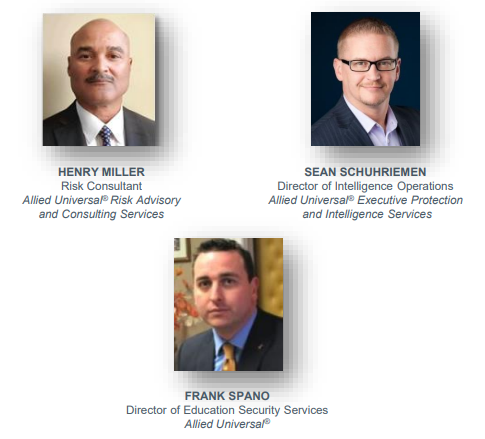 ---
Before proceeding to the On-Demand Webinar that you have requested, please provide us with a little information about yourself so that we can better serve you in the future.
NOTE: By completing this form, you agree to receive updates from Allied Universal via email. Your data will not be passed on to third parties and you may unsubscribe from these communications at any time.