Are you ready for a strike if one should hit tomorrow, next week or even next month? We'd argue that most companies prepare for a strike only when faced with the potential for one occurring. Strikes are sweeping the labor market as workers wield new leverage. The Labor Action tracker at Cornell University Institute of Labor Relations documented 1,029 US strike locations in 2021 and the Canadian Labor Program reported a 124% increase in 2021 work stoppages over 2020.
Organizations dealing with a strike or other work stoppage are faced with additional threats that need to be addressed to effectively protect the company's people, property, products and brand. Taking a few key steps now will allow you to respond to strikes in a more organized, professional and secure manner.
Join our panel to learn how strikes have evolved/impacted organizations and what actions you can take help mitigate risks.
Discussion Topics:
What risks your organization faces as a result of strikes?
Common misconceptions role of emergency/security
Strikes in the digital/social media age
Stages: Pre Strike, Strike, Post Strike actions
Presented By: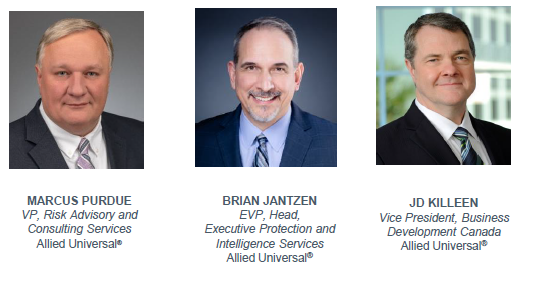 ---
Before proceeding to the On-Demand Webinar that you have requested, please provide us with a little information about yourself so that we can better serve you in the future.
NOTE: By completing this form, you agree to receive updates from Allied Universal via email. Your data will not be passed on to third parties and you may unsubscribe from these communications at any time.