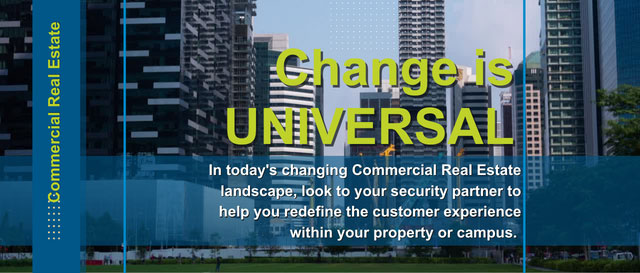 The Commercial Real Estate Sector is Changing
 
The Commercial Real Estate sector is under pressure both financially and operationally as organizations adopt new hybrid working models, reducing the need for corporate office space.
How do you plan to manage your facility's security program in the face of these ongoing changes? As your partner, Allied Universal® is committed to working with you to find tailored, integrated security solutions to meet your evolving needs. 
Join us for an informational webinar as we explore modern and responsive security strategies for today's changing Commercial Real Estate landscape.
About The Presenters:
TOM WALTON
Senior Vice President of Vertical Markets, Allied Universal®

Tom Walton leads a team of subject matter experts focused on providing thought leadership, elevating the organizations relevance within specific industries, and supporting the business development and marketing efforts of Allied Universal®. Tom is an accomplished, energetic, results-focused security executive with over 30 years of B2B sales and client relations focused on multinational corporations. His expertise is developing enterprise security solutions for Fortune 500 organizations and specific industries. Tom is an active leader of both the Building Owners and Managers Association (BOMA) and ASIS International. He formerly served as Chairman of the International Council of Shopping Centers (ICSC) Security Committee.

 

MIKE HANLON
Vice President of Hosted and Managed Solutions, Allied Universal®

Mike Hanlon has spent 30 years developing programs for clients to leverage technology to enhance their business operations and improve their security. Prior to joining Allied Universal®, Mr. Hanlon oversaw Managed Services for G4S overseeing Monitored and Managed Services in Burlington, Mass and Jupiter, FL. Prior to G4S, Mr. Hanlon led a startup first-generation Managed Services company specializing in Retail, Industrial and Multifamily Housing. He has experience in managing national teams of consultants, designers and engineers in creating programs for in house Security Operations Center (SOC) and fully outsourced Security Operations Centers as a Service (SOCaaS). Mr. Hanlon oversees the integration of AI, automation, robotics and UAV technology from the sites to Allied Universal's Monitoring and Response Centers (MaRCs) to improve operations, reduce risk and optimize a connected security program.

 

LUIS ORTEGA
Vice President, Allied Universal® Risk Advisory and Consulting Services

Luis Ortega is a corporate security professional with over 30 years of leadership in the private, government, and NGO sectors. He's a former US Marine Corps Counterintelligence Officer and an expert in anti-counterfeiting programs, business intelligence management, and security leadership training. He has conducted security assessments for the Organization of American States as well as major energy, electronics, and food production companies and has led protective operations for luxury, tech, and industrial executives.

 

JD KILLEEN
Vice President of Business Development, Allied Universal® Canada

JD Killeen brings more than 30 years of experience to the role and to the security industry at large. Since joining Allied Universal in 2010, JD has taken responsibility for the strategic growth of the business through vertical expansion, integrated service discussions, and continues to lead and advance the national sales team. JD focuses on enhancing value for customers while providing counsel on comprehensive and meaningful security solutions that have true measurable impact. JD currently sits on the board for the newly formed Canadian Security Lifesaver Association (CSLA) where he works to elevate the perception of security professionals through recognition.
---
Before proceeding to the On-Demand Webinar that you have requested, please provide us with a little information about yourself so that we can better serve you in the future.
NOTE: By completing this form, you agree to receive updates from Allied Universal via email. Your data will not be passed on to third parties and you may unsubscribe from these communications at any time.