Swift technology advances in the security arena have brought exciting new ways to mitigate risk and are driving a rapid movement to integrate new technology-based security solutions with manned guarding to drive both efficiency and effectiveness of security programs.  Major events historically drive technology adoption – whether it's a hurricane, cyber threat or a pandemic, the changes typically continue and expand as hospitals understand the innate value of the new way of doing things. 
The complex requirements of navigating the COVID pandemic hastened the adoption of integrated security solutions for healthcare facilities and networks that had started years before COVID came on the scene. It was the successful lessons from the early adopters that allowed a rapid application of these blended technology/manned guarding solutions to help hospitals pivot to a new model quickly and adapt to the ever-shifting requirements of securing the" pandemic workplace".
Now, hospitals and other healthcare facilities have an opportunity to consider, consolidate, and adjust those recent adopted changes into a fully risk-based program of integrated solutions that can better mitigate the security risk profile they face today, and build adaptability and resilience for the unknown security risks that tomorrow may bring.
Where do we begin?
In a recent article, Enterprise Security Risk Management (ESRM), written by Rachele Loyear of Allied Universal, Ms. Loyear noted:
"A risk-based security approach, founded in a partnership environment across the organization, will be able to clearly identify and prioritize the things that are most critical to the organization in the risk cycle. The result being greater alignment with tactical security measures to protect what is most important to the organization from the things most likely to bring harm. This simple approach brings a powerful benefit to the organization by keeping the organization secure and compliant with regulatory standards."
Creating an integrated security solution requires starting with a review or formal assessment of the current practices and technologies in place and alignment throughout the organization on three simple questions:
What do we, as an organization, need to protect the most?
What do we need to protect it from?
How can we best protect it – together?
By answering these questions, evaluating the hospital's current state, and identifying a vision for the future of the security program, we can create a roadmap for the security team to achieve a lean, efficient, and more reliable program.  That roadmap includes the integration of technology, people, and processes.  Something we like to call "the connected" program.  
Technology advancements deliver more efficient security
It is not uncommon that during a security review or assessment, we identify that the technology investments made 10 to 15 years ago are either obsolete or part of the reason the security program is operating in an inefficient manner.  Last year, a visit to a regional medical center identified a security operations center using 20-year-old cameras and monitors used for video surveillance and patrols.  Due to the lack of upgrades, the "wall" of monitors required three security operators to view over 100 cameras across the healthcare campus.   By first using the risk-based approach to identify the facilities threats, we were able to design a "smart" security operations center that integrated the right technologies with a more efficient use of personnel.   It included upgrading the cameras to support AI powered video analytics to look out for intruders or behavior anomalies; a Video Management System that integrated the access control platform with the video feeds providing notification of unauthorized access to secure spaces such as surgical suites and maternity units; and real time notification of threats through a situational awareness platform to protect against larger environmental risks.  The result was a much stronger security posture focused on today's modern healthcare threats; and a more efficient use of personnel that experienced a reduction in required headcount to operate the security operations center.  
Tapping into the Power of AI for Integration
Artificial Intelligence (AI) is transforming every sector of our economy, and hospital security is no exception.  Integrated security allows us to augment human skills, abilities, and responses with AI and is taking many physical security tools to the next level. Video analytics, Incident/Case Management platforms, Security Officer Support Platforms, and more are benefitting from AI. Sophisticated AI-driven platforms can take security teams beyond the typical "detect and respond" security posture and moves them toward "anticipate and prevent."
The best AI-driven platforms go beyond tour or incident management systems and provide a comprehensive workforce management solution using AI algorithms to project what's most likely to go wrong in a particular area of a healthcare facility and then prescribe solutions to drive better outcomes.  At my organization, the effectiveness study for our AI platform, launched in 2019, shows that clients, on average, experienced over a 20 percent reduction in safety and security incidents. Those are crimes and accidents that don't happen. That is people and property protected, and real money saved, using AI technology.
Consider the dilemma confronting a 100+ bed community hospital in Texas.  With an unhoused population and others not seeking medical attention loitering in parking areas, the security team was bogged down with making frequent rounds to address perimeter security issues across its property spanning 250,000 square feet and 14 acres.
The hospital discovered a solution that freed up their security team for more critical functions by implementing AI driven technology.  Drawing on a wealth of data – from facility incidents, comparable facilities, area crime statistics, past patrols and other inputs – the AI engine used prescriptive analytics to generate recommendations that proactively adjusted officers' patrol times and routes.  Enabled with AI powered mobile devices, the security team completed patrols faster and more effectively resulting in a 200% drop in security incidents with an enhanced safer care environment with greater staff, visitor, and patient satisfaction as the number of customer complaints fell dramatically.
The Increasing Role of Robotics in the Manned Guarding Sector
The ever-increasing emergence of more highly sophisticated technology into the security sector has driven a paradigm shift for risk management, offering more opportunities for security system enhancements, program integration and provision of new solutions to persistent problems. Artificial Intelligence powered purpose-built devices provide a new tool offering new benefits to be used by progressive practitioners to enhance the effectiveness and efficiency of security programs through the strategic integration of people, processes, and technology. 
Does using a robot eliminate physical security officers at a site?  Absolutely not, but robots are a real force multiplier adding to the efficacy and efficiency of security programs.  The use of AI-enabled technology augments security personnel by performing necessary but not human reasoning-related tasks, allowing security professionals to focus on analytical and decision-making activities. Threats, crime, and mischief do not operate on a timetable, nor do they sleep. Robots provide 24/7 autonomous patrolling and monitoring including autonomous recharging without human intervention, so that a company's assets can be secure 24/7.  
A further example of a forthcoming deployment at a 100-bed community hospital is an innovative solution known as "RAD Light My Way."  Specifically, this AI-enabled solution, performed by 'stationary robots' as we often refer to them as, allows hospital staff the ability to check the outdoor areas for potential threats at their convenience and on their schedule which allows them to have immediate access to information to satisfy their concerns – without adding burden to the security staff. Then, if a staff member feels threatened in a protected outdoor area, they can immediately signal all nearby devices, creating an immediate and stronger deterrent.  
Parking lots, whether at hospitals, hotels, or office buildings, are the third most common place for assaults, abductions, and homicides, according to FBI data. A survey by the International Association for Healthcare Safety and Security  found that nearly 70% of armed robberies and 56% of rapes of health care workers occurred in parking and adjacent areas. "Clearly, parking safety represents a major challenge for hospitals, demanding time, personnel, equipment and dollars," wrote authors of the report. 
"With the broad deployment of AI-enabled solutions, like RAD Light My Way and ROSA, we intend to make an impact on the instances of assault and other dangerous crimes," said Mark Folmer, CPP President of RAD. "Legacy solutions like Blue Light emergency phones are no longer enough. The marketplace now demands solutions that do more to detect and deter before the crime happens. That is what delivers much needed peace of mind to hospital staff, patients, and visitors."
Hiring & Training Security Personnel for Integrated Security Programs
The heart-and-soul of an integrated security program in healthcare starts with a world-class security team of highly trained people to support the security mission. They must have the appropriate skills to effectively address the threats targeting staff, patients, and guests of today's modern healthcare facility.  This includes an understanding of behavioral health needs, HIPPA compliance, and patient experience.  Consequently, security professionals for healthcare environments must be recruited and screened uniquely from traditional security guards, with compensation and benefits commensurate to the required skills and expectations of healthcare.  With the integration of technology for a more efficient and effective security program, healthcare security professionals will also be required to have technology skills that may not have historically been required.
The future of healthcare security will demand that we adopt more efficient and dependable technologies to adequately support future labor shortages while strengthening our security posture.  Ensuring these technologies integrate with one another and the humans responsible for operating them will continue to be the focus for successful security programs.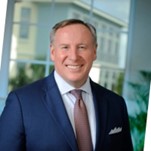 About the Author:
Thomas Walton is Senior Vice President, Vertical Markets at Allied Universal®, a leading security and facility services company with a workforce of approximately 800,000 people and revenues of approximately $20 billion. He can be reached at: thomas.walton@aus.com.