Although we must trust our employees and third party partners, it is important to remain vigilant in order to protect your organization from theft or unauthorized use of the company's intellectual property by employees or others.
Companies in the U.S. have been cognizant of the potential loss of trade secrets to the opportunistic insider. In recent years, however, that threat has evolved to present even greater risk to companies whose innovations are fundamental to its competitive advantage in a global marketplace. Today, nation states acting as proxies for state owned or state supported enterprises are recruiting, directing and even incenting company insiders of U.S. companies such as employees, vendors, contractors and joint venture partners to steal trade secrets.
Join our panel of subject matter experts to learn more about insider risk mitigation.
Discussion Topics Include:
Insider Threat Facts
Employee IP Misconceptions
Employee Prohibited Behavior
10 Steps companies Can Take to Protect Their Intellectual Property from Insider Threats
Presented by: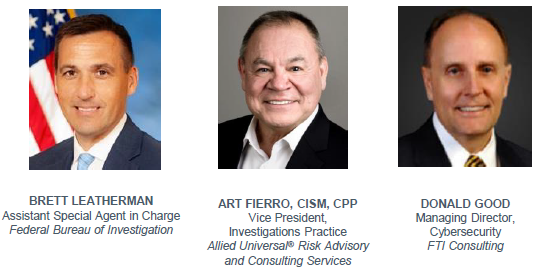 ---
Before proceeding to the On-Demand Webinar that you have requested, please provide us with a little information about yourself so that we can better serve you in the future.
NOTE: By completing this form, you agree to receive updates from Allied Universal via email. Your data will not be passed on to third parties and you may unsubscribe from these communications at any time.