Making Security for Our Children Top Priority
Every school campus should be a safe haven, a protected space dedicated to learning and development. We share schools' mission to create these safe, supportive and enriching environments that foster children's achievements. As the nation's largest private security services provider, Allied Universal® is the dedicated and experienced safety and security resource for K-12 schools. Our customized, school-based and district-wide solutions are student-centric and designed to effectively combat ongoing threats while remaining sensitive to the sanctity of the school environment.
Security Solutions for Schools
Allied Universal® secures your school with highly trained security professionals backed by technology solutions so you can focus on creating a safe environment for your students, faculty and staff. We offer:
Friendly school security professionals, with a customer-service mindset, who elevate security goals through incident management and safety patrols
Access control solutions to manage visitors and provide lock-out assistance when necessary
A dedicated K-12 support team for strategic thought leadership, solution designs and consultative program management
Unrivaled Training & Resources
Schools face intense pressure to address safety incidents, hazards and stay current on issues facing the school security landscape. We are a contract security provider that offers training courses in critical school safety areas
Customized online Fire/Life Safety training for students
Emergency Response Planning and Active Shooter/Hostile Event Preparedness
First Aid/CPR/AED and ADA compliance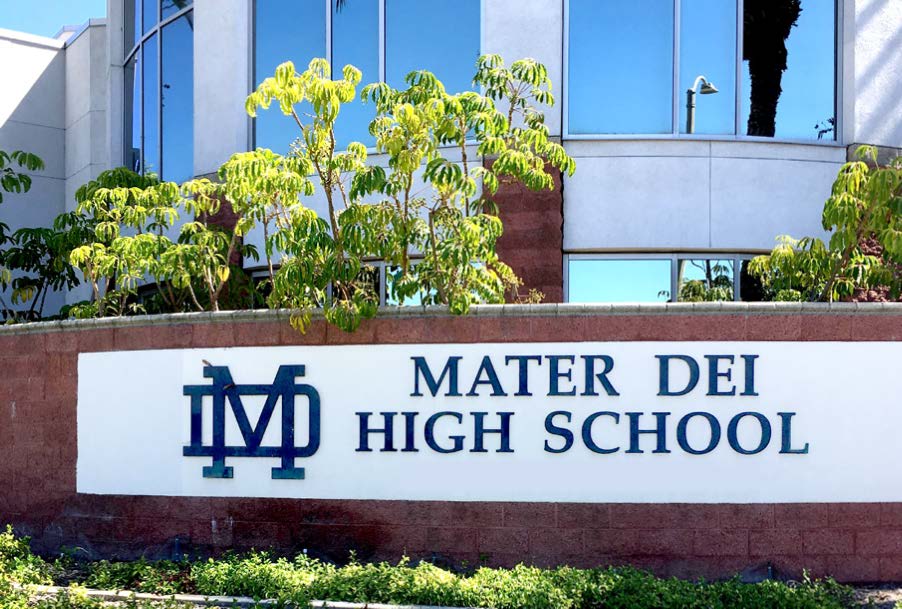 Combining Security Professionals and Security Technology to Keep Our Schools Safe
Mater Dei and Allied Universal® have worked closely as partners over the years to fine-tune a security structure that best fits the unique needs of the school. During this time, the academic powerhouse has implemented several of Allied Universal's recommendations that have resulted in an increase in both security awareness and protection.
A Full Suite of School Security Technology Solutions
Allied Universal® offers a full suite of solutions to help you increase your facility's safety and satisfaction while managing costs.
Technology that Solves Problems
Through our Global Security Operations Center as a Service (GSOCaaS), we manage security operations, develop security strategy and deploy effective security measures with best-in-class technology and managed services—allowing you to increase safety at your school without investment in additional infrastructure or expertise. We can help you:
Empower your school's students, families and staff to take action when they see suspicious or threatening activity via our LiveSafe community, our sourced situational awareness application
Monitor and analyze public information posted across the web, dark web and social media with ThreatMinder to proactively identify and address threats
Expand your security presence and reach instantly with Robotic Assistance Devices (RAD) by utilizing RAD SCOT™ detection, ID checking, facial recognition, MAC Tracker™ capabilities, communications, help buttons, and video capabilities
Intelligence-Driven Workforce Management
Manage on-premise workflows more effectively and transform the traditional reporting process into a paperless, real-time solution with web and GPS-based technology. Gain access to:
Information Management
Security Guard Tour Tracking & Supervision
Automated Incident & Daily Reporting
Interactive Post Orders & Online Training
Incident Heat Mapping & Security Asset Allocation
Monitoring and Response Center (MaRC)
Our MaRC provides 24/7 end-to-end video surveillance using leading-edge equipment and state-of-the-art real-time analytics to proactively intervene through our central command presence, offering:
Event-based video monitoring customized to your security protocols
Fire and burglary alarm monitoring
Virtual guard tours, remote video escorting and remote lobby management