Partners In Employment
As the largest security company in North America, Allied Universal is committed to advancing the lives and careers of those in the communities we serve. Our relationships with our employees and our clients are at the heart of everything we do, each and every day. That is why we created the "Allied Universal Partners in Employment Program."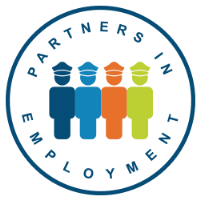 Our unique community based program supports an organization in two important ways:
It helps its members attain meaningful employment opportunities with multi-faceted career paths through the variety of full and part-time Security Professional, field and management positions.

It supports organizations' fundraising goals as we contribute to their initiatives through our referral payment program. Those contributions can help fund a variety of project and outreach programs.
Learn More About the Organizations We Support**
Why Allied Universal?
Allied Universal is the largest security services company in North America. With over 150,000 employees and 60+ years of experience, we operate throughout the U.S., Puerto Rico, US Virgin Islands and Canada. We were named one of America's Best Employers by Forbes Magazine (2017) and Inc. 5000's Fastest Growing Private Companies (2010-2017).
Allied Universal offers above market wages, health insurance, 401k, recognition programs and other benefits! In addition, there are many career advancement opportunities, professional uniforms and training certification programs available.
We implement the latest technology to deliver tailored solutions to our clients and employees and can offer flexible schedules and a variety of career opportunities and positions to fit many interests. Explore challenging careers across an array of job roles:
Security Professional Positions
Uniformed Security Professionals

Lobby Ambassadors

Access Control Officers

Vehicle & Bike Patrol

Dispatchers

Site & Shift Supervisors

Post Commanders
Corporate & Field Positions
Account Managers

Branch Managers

Receptionists

Human Resources

Recruiters

Sales Representatives

Finance & Accounting 
* Referral contributions will be made following the hiring and retention of new employees for ninety (90) days. Individuals employed pursuant to the program will be at-will employees. The program is managed and administered at the sole discretion of Allied Universal management, and the Company reserves the right to modify, amend or suspend the program at any time, with or without notice. Allied Universal reserves the right to hire the best qualified candidates for any job opening, regardless of referral source.
* Candidates must meet all qualifications and prerequisites for employment (including drug testing and background check).
* Referral payment is made upon 90 days of employment (must work minimum number of hours per week to qualify).
** If you are a non-profit organization that does not fit into one of the four categories listed above and you are interested in being a part of this program, please use this form to contact us.
Allied Universal is an Equal Opportunity/Affirmative Action Employer and does not unlawfully discriminate against any employee or applicant on the basis of race, creed, color, national origin, sex, age, disability, marital status, sexual orientation or preference, citizenship status, religion, veteran status, gender identity or any other legally protected status. The Company will comply with all applicable laws with regard to the implementation and use of this program. Learn more about our Equal Opportunity and Affirmative Action policies.
 
To view and apply for career opportunities, click here