This blog post was originally published in June 2014. Please enjoy an updated version below.
When I hear the term "security guard" used in popular culture, why does it personally elicit a reaction of disappointment for me? As Chief Administrative Officer for America's largest security firm, how our security professionals are perceived is part of my job. Words have the ability to shape our perception, and when I hear the term "security guard," I feel  that the important role our security professionals play is diminished.
My company believes the word "guard" does not convey the level of respect, professionalism and training necessitated of today's security professionals. The terms "security officer" or "security professional" are universally used in all of our internal and external references. I am proud that Allied Universal has established this standard of respect for security professionals. Indeed, it is great to see that many other security companies have followed suit and abandoned verbiage that highlights the use of the word "guard."
Security officers are hard-working, highly trained men and women who are our country's first responders. Security professionals have a wide range of skills – from the sensitivity to deal with lost children to the ability to respond to and effectively address significant incidents. Security officers are often put in high-risk situations as they confront and detain criminals engaged in theft, trespassing, gang activity, and every other manner of unlawful behavior that occurs where many people congregate on a daily basis. 
I invite you to evaluate your perception of security professionals and think about the critical role that they play in keeping us all safe.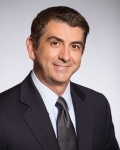 About the Author
  Scott Savoie is a Chief Administrative Officer at Allied Universal.