As we salute military personnel this Veterans Day, it is an opportune time to review why veterans make ideal recruits for the security officer and physical security sector. Once they leave the military, it's a natural fit for veterans to go into the security field. Here are some reasons why:
Technology Expertise – Military transitioning to civilian jobs have high demand, high-tech skills with sophisticated systems and software. Today's security world needs skilled personnel experienced with robotics, video analytics, access control and biometric technologies. 

Advancing through the Ranks – The security sector boasts many recruits who start their careers at an entry level and who are promoted to management positions. Advancing in the security sector demands many of the qualities military veterans are known for, including their battle-tested real-world experience. Additionally, they are trainable, adaptable, dependable and have the ability to deliver quality work in high pressure situations. 

Clear to Report to Duty – "Over 90 percent of those in the military have had extensive background checks for various levels of security clearances," reports VetJobs.com. Security companies welcome the background check procedures that military veterans have already undergone, making a quick start date possible. 

We Speak Your Language – Security companies understand the language of the military and don't generally require that military responsibilities or terminology be coded into language that non-military can understand.

Already Pre-trained – Having served in the military, veterans already have the basic training and discipline required to excel in various security roles. 

Honored to Hire Veterans – While some businesses talk the talk about why military veterans are important hires, the security sector walks the walk. The security industry honors and appreciates the sacrifices made by our nations' military and seeks out ways to show that appreciation each and every day. This is the case at Allied Universal, which not only has been designated a Military Friendly® Employer, the company hires thousands of veterans annually. We also support veterans' causes with many initiatives, such as job placement assistance, career preparation and employment retention aid. Donating to veterans organizations in every region is the norm.
  
While Veterans Day turns our nation's collective awareness to our military, it is important for security companies to think about making military hiring a part of their culture. We thank our military veterans for their brave service to our country and continually seek to champion them and their causes not just on Veterans Day, but every day of the year.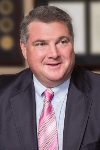 About the Author 
  Steve Jones is the CEO of Allied Universal.