This article first appeared in the May 2018 Viewpoint, a monthly newsletter of The Risk Authority Stanford.
Hospitals and other healthcare facilities can be scary places to work—if the right precautions and measures aren't put into place for safety of staff, visitors and patients. Violence against healthcare workers tops the list. 
According to the Occupational Safety and Health Administration (OSHA), approximately 75 percent of nearly 25,000 workplace assaults reported annually occurred in health care and social service settings between 2011 and 2013. Moreover, for healthcare workers, assaults comprise about 11% of workplace injuries involving days away from work, as compared to 3% of injuries of all private sector employees.
The Joint Commission has just published a Sentinel Event Alert (#59) regarding physical and verbal violence against healthcare workers. This alert highlights the prevalence of workplace violence (WPV) in healthcare, provides contributing factors, and offers "suggested" actions by The Joint Commission. 
Ways to prepare include:
Define WPV and implement systems across your organization that enables staff to report instances

Capture, track and trend reports of WPV, such as verbal abuse and attempted assaults

Offer support to victims and others affected by the violence

Review cases of WPV to determine contributing factors for intervention

Develop ways to reduce future incidents of WPV

Train staff and the security team on de-escalation and response to emergency codes

Evaluate your reduction initiatives to make necessary adjustments
The alert also provides a chart of all The Joint Commission Standards that apply to WPV in healthcare. It's a great reference to what you need to be aware of from a standards perspective. Healthcare providers in California should already be following new Cal OSHA requirements for implementing a WPV prevention program. All providers, regardless of their location, should be prepared to prevent WPV, and know what's required of their organizations and security programs to address any such situations.
For information on how Allied Universal serves the healthcare industry, visit www.aus.com/healthcare.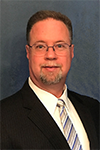 About the Author 
  Michael W. Dunning, CEM, CHPA, is National Director, Healthcare Operations, at Allied Universal.