The first ever National Security Officer Appreciation Week is being celebrated this week. Security officers play a critical role in businesses across the country and it is time that we recognize those efforts.  
We established National Security Officer Appreciation Week to recognize the contributions of all contract and in-house security officers across all industries. This is an opportunity to recognize the many roles of security officers; debunk misconceptions and stereotypes; and raise awareness of security career opportunities.
We hope that our fellow security officer companies and all businesses will join us in honoring security officers. We all need to work together to ensure that security officers are treated with respect.  
It's time to elevate the national perception of security officers despite Hollywood's comic portrayal. Today's security officers are vigilant, responsive and dedicated to protecting our workplaces. They are holding doors and offering assistance, responding to medical emergencies, reporting suspicious behavior, controlling access and serving as a liaison to local law enforcement. Our first line of defense during these challenging times deserve our appreciation. 
Not only do we all need to appreciate security officers, we need to attract even more talented men and women to the career opportunities in this growing industry. According to the Bureau of Labor Statistics, there were 1,077,520 security officers nationwide in May 2014. 
Security officers are better trained and more qualified to manage a diverse array of security and safety challenges than ever before. The transformation of the security officer sector is due to a myriad of complementary forces including respected security organizations NASCO, and ASIS International, as well as the many state agencies, organizations and security officer companies working together to create best practices and legislation for the industry. Let's join them by showing appreciation to security officers who deserve our recognition. 
This annual event, which will be held the third week of September every year, will be featured in the upcoming edition of Chase's Calendar of Events. I implore all business leaders to demonstrate their appreciation for the security officers that watch over our workplaces and employees every day.
Read more about National Security Officer Appreciation Week and learn how you can recognize a security officer and join in the celebration!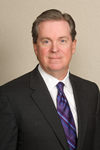 About the Author
  Bill Whitmore is the Chairman of the Board for Allied Universal. He is also the author of Potential: Workplace Violence Prevention and Your Organizational Success.