Security officers act as community ambassadors where they assume customer service roles. They are also first responders in emergencies, act as a liaison with local law enforcement, lead safety efforts, escort patients in hospitals, raise personal security awareness with students, and check in on residents in gated communities.
The physical security sector fosters career growth for men and women who take advantage of the continual training and opportunities that the industry presents. I speak from experience as I began my career over three decades ago as a security officer working event security. Security officers are on the front-lines and, as such, are subject to uncertainty and danger. I learned early in my career that some of us pay the ultimate price for serving and securing the public. My passion for the business was inspired by my late father, Frank Rabena, who was a Director of Security at SpectaGuard—a man dedicated to always helping others who was my larger-than-life role model. 
Before workplace violence was in our day-to-day vernacular, my father lost his life when he and former site supervisor Paul Bryant were working inside an industrial facility in 1992. They both were gunned down by an employee who was disgruntled over a job transfer. I chose to honor my father's legacy by continuing in his footsteps to serve and secure my community and mentor the next generation of security leaders. 
Join me in celebrating the fourth annual National Security Officer Appreciation Week observed September 16-22. At Allied Universal, we have many heroes among our ranks. A few recent examples:
Meet Jason Laa, who was on patrol in San Antonio when he came across an infant left alone in a car with the windows closed and engine off. Laa broke the window and removed the infant. Without his decisive action, the infant might not have survived the Texas heat. He received a Hero Award for taking the right actions.
Meet Ta'Shona Sparkmon who was commuting home late one night when she came upon a man who was preparing to jump off the overpass of the Atlantic City Expressway in New Jersey. She called for help to pull the man to safety and stayed on the scene for hours to comfort him. For her efforts, she received a certificate of commendation for saving a life from the local police chief.
Security professionals are vigilant, responsive and dedicated to maintaining safe and secure environments. Whether they are opening doors for guests, giving CPR, reporting suspicious behavior, controlling access or preventing crimes, these men and women help keep our homes, communities and workplaces safe and secure. For acting as our first line of defense in many situations, they deserve our respect and appreciation during National Security Officer Appreciation Week and throughout the year.
Gratitude also is due to the leading private security contractors and national security organizations, including ASIS International, National Association of Security Companies (NASCO) and state and federal agencies, who are working together to create legislation and best practices for the industry. This signifies the importance and value of the security officer. Let's join them by showing appreciation to security officers everywhere and by recognizing that they are committed to our safety and deserve our respect and admiration—as I aspire to do daily through my service to the profession in honor of my father and his coworker.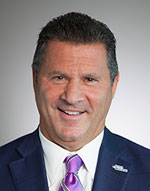 About the Author
  Ron Rabena is Chief Administrative Officer, East Division, for Allied Universal.