As we reflect on the close of the fourth annual National Security Officer Appreciation Week, I am reminded of just how integral security officers are to our communities and workplaces. These individuals not only deter crime, they lead evacuations, provide information, work closely with local law enforcement and are constantly vigilant in their efforts to keep us safe. These heroes deserve recognition for all that they do.
This sentiment was echoed by more than 300 messages of thanks that were received online. Many of these messages came from private citizens simply to recognize key members in their communities. Below are some that speak to the heart and soul of what makes security professionals phenomenal. 
 
•    Jaimee Miller has continuously shown her dedication to upholding the Allied Universal standards by remaining a constant professional, assisting other officers, and going above and beyond for the Client and employees at her site. Officer Miller has demonstrated an excellent ability to connect with the people she sees while on duty and creating an inviting atmosphere.
~ Jacob Louiz, Phoenix, AZ
 
•    Shanee Cooper assigned post was turned into an emergency shelter that housed an excess of over 400 persons during Hurricane Florence. [On a daily basis,] Officer Cooper kept full control of the situation and assisted Emergency Management, Local Police, EMS and shelter persons, all while maintaining a calm and professional demeanor. This stressful ordeal was always under control at her assigned post and is a true testament to her professionalism. Her professional ethics resulted in numerous accolades from several persons and management.
~ Kevin Schneider, Garner, NC
 
•    Emmanuel Centeno is an amazing Post Commander and remains reliable and dedicated each day. He has taken leadership of his role and has mastered the needs of the building and of the Greenlaw staff, with ease. He is always respectful, caring, works well with others, and more importantly, he is a great team player.
~ Rowena Marquez, Laguna Hills, CA
 
•    Misael Rios is a consummate professional. He is eager to help, [has] commanding presence, and is sure to be thorough with securing our Operations HQ facility. He can be counted on to carry out last-minute requests for securing or monitoring areas in need. He offers White Glove customer service and can be counted on to follow through. Great customer service! He rocks!!
~ Bernadette Szakal, Pennsauken, NJ
 
•    Warren Green always goes above and beyond! Has a positive attitude. Smiles and is helpful. Will help seniors into their cars after worship.
~ Donna Yost, Houston, TX
 
•    Joyce Wynne was very pleasant and helpful in giving us directions and good places to eat and site seeing.
~ Marie Nuckles, Williamsburg, VA
 
•    Dale Holmes The tenants and building staff have the utmost respect for Dale. He is professional, loyal, dedicated and the lifeblood of this building. He is a member of our 18,201 families and we are proud to have him represent us on the daily.
~ Shanda Lazenby, Irvine, CA
 
Don't wait until the fifth annual National Security Officer Appreciation Week to show security officers that you value their hard work and dedication. Thank the next security officer you meet and encourage your friends and family to do the same!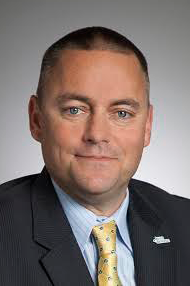 About the Author
  Paul Stab is Vice President of Sales Enablement for Allied Universal.