Following high school graduation and as he turned 18, Nate Beckstrand joined the local fire department. He worked as a firefighter for five years in Nevada and Utah and considered it a privilege to serve families and communities. During that time, Beckstrand collaborated with arson teams and got a first-hand look at the incredible sniffing capabilities of canines. 
"Looking back, that's when I first became interested in canine handling. At a fire scene investigation, these dogs would pinpoint the location of accelerants – gasoline or diesel fuel, kerosene, charcoal fluid – whatever was used to ignite a fire," Beckstrand said.
Today, Beckstrand is a proud canine handler for MSA Security®, an Allied Universal® Company. Beckstrand's canine Bane is a four-year-old German Shepherd trained to sniff out firearms.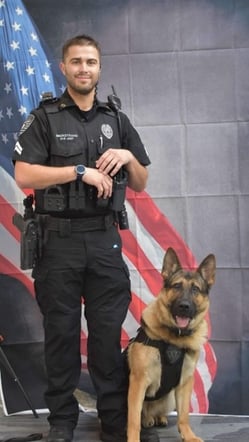 The duo works for a national mall client and are one of more than 900 MSA Canine Detection Teams that carry out important work each day to keep millions of people safe. According to the National Retail Federation, nearly 60% of retail security executives report concerns with the rise in mass violence and active assailants over the last five years. This growing threat is a liability that endangers consumers, personnel and brands. MSA Firearms Detection Canine Teams, like Nate and Bane, are specifically trained to address this threat.
For the first time in their two-year deployment, the pair recently responded to a "shots fired" alert in the mall. The active shooter incident followed a verbal altercation between rival groups. Arriving at the scene, Beckstrand found a man suffering from a gunshot wound and bleeding heavily. As he began first aid, the victim, who was one of the gunmen, pulled his firearm on Beckstrand. Beckstrand, a quick-thinking and well-trained handler, disarmed him and continued to tourniquet and bandage until local law enforcement arrived. No others were injured during the incident.
 
"It's important for me to help combat the increase in gun violence across our country. To be able to help keep people safe – and have the best partner while doing it – is so rewarding," explains Beckstrand. 
The proof of their impact is in the incredible numbers. Since starting their deployment in November 2020, Beckstrand and Bane have identified more 2,000 firearms.
"Our days are busy and active. We're constantly walking the mall against the flow of patron traffic. As shoppers pass us, Bane turns his head into the wake of the odor. If he detects an odor unique to firearms, he turns to follow them," Beckstrand said. 
For all MSA Firearms Detection Canine Teams, imprinting and training rely on odors unique to firearms, such as metals, oils and cleaning solvents. A properly trained firearm detection dog will successfully sniff out these separate odors to offer a passive "sit" alert on a threat, even if the gun has never been loaded or fired.
Bane is a real softie in his downtime. "He loves people. I think that is one reason he likes going for walks when we're not at the mall – just to say 'hi' to the neighbors! They all love him too," Beckstrand said.