Due to rapid growth and expansion, Allied Universal is seeking phenomenal talent across all our regions, including Canada. We're recruiting to fill a variety of security professional roles including account managers, concierges, dispatchers, high-rise lobby ambassadors, supervisors and vehicle and bike patrollers.
These roles serve to protect the general public, act as first responders in the event of an emergency, as guardians of physical assets, and as customer service representatives in the community. They fulfill critical duties including monitoring access at an office building, parking lot or hospital; patrolling a campus or transit station; and keeping watch of a shopping mall or harbor. They are young adults, retirees, those aspiring to work in law enforcement or veterans transitioning from the military.
But what makes a great recruit? Traits of an ideal candidate to join our team are as diverse as the jobs performed. Candidates should:
Fit the culture: Be professional, vigilant, self-directed, ambitious, friendly and enthusiastic, and reflect the organization's core values.

Be mission driven: Be attentive, responsible, accountable and possessing of leadership qualities. Our mission is to provide unparalleled service, systems and solutions to serve, secure and care for the people and businesses of our communities, putting our relationships with our employees and clients at the heart of everything we do each and every day. In order to meet this mission, we look for candidates who share our philosophy.

Have what it takes: They are highly trained or trainable candidates that are technologically savvy. Many will have a law enforcement background or veteran status, making them highly desirable and ready to deliver quality work in high-pressure situations.
   
We will be hosting hiring events in just about every major city over the next couple of months. View our listings here.
Company benefits include medical and dental insurance, disability/accident insurance, 401(k) plan, holidays and more. We also are an equal opportunity employer committed to hiring a diverse workforce. 
Anyone, who is at least age 18 and is a high school graduate, can apply for an opportunity to make an impact in our businesses and communities every day.
To check out Allied Universal's many security opportunities, visit www.AUS.com/careers or LinkedIn, and follow us @AU_Careers or https://www.facebook.com/AlliedUniversal.
Be a part of shaping the role of a professional security officer into the image that embraces its full potential.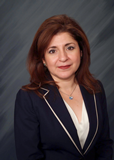 About the Author
  Catherine King was a Senior Vice President, Allied Universal Recruiting and Staffing Services.