Media Contact:
Kari Garcia
Allied Universal Public Relations Director
Phone: (949) 826-3560
Email: kari.garcia@aus.com
WHAT:    
Allied Universal has been recognized with a Certificate of Appreciation from the Los Angeles Police Department (LAPD) for its efforts in keeping the city safe by providing daily alerts of events in the downtown Los Angeles area.
WHEN:        
Jan. 26, 2023
WHY:    
The Allied Universal team provides the LAPD with critical communication alerts about events, marches and protests in the area that play a vital role in keeping the city and its residents safe. Brian Raboin, regional director of security for Allied Universal's southwest region, was notably recognized for his many years of service as a valuable LAPD partner. Brian and his team were recognized by LAPD's Special Events team of the Operations Central Bureau for their daily communications of vital information such as street closures, rallies and protests which assist in proper event planning and placement of law enforcement resources to keep personnel and the community safe.
These critical alert communications also help alleviate traffic issues and enable local businesses and stakeholders to notify employees and members of the community of upcoming events.
QUOTES:    
Brian Rabion – Allied Universal Regional Director of Security for Southwest Region
I'm so proud of our team and the vital support we provide the LAPD each day. This commendation not only recognizes our close daily work with the department, but in particular, the important daily alerts our team provided during the riots and protests from May 2020 to Feb. 2021 throughout the Greater Los Angeles area, which continue today. Our partners at the LAPD informed us that daily shift briefings didn't begin until they received our daily alerts. That is an impactful statement illustrating the importance of our jobs as security professionals to local law enforcement agencies.
Mike Flanagan, Retired LAPD Sergeant
We want to thank the entire Allied Universal team led by Brian Rabion for their invaluable support of the LAPD and its service to the Los Angeles community. This team of security professionals has been an important partner is assisting LAPD with one of its most important core values 'Service to our Community'.
Scott Harrelson, LAPD Commander
Brian is a trusted and valued partner of the Los Angeles Police Department and has shown repeatedly through his words and actions that he is not only dedicated to Allied Universal, but also to the diverse communities of Los Angeles.
Marc Reina, LAPD Deputy Chief
The LAPD has a long-standing relationship with Brian and we count on his continuous communications and sharing of information to ensure public safety. Our partnership is the key to keeping the LA Community members informed. He is a true professional.
IMAGE: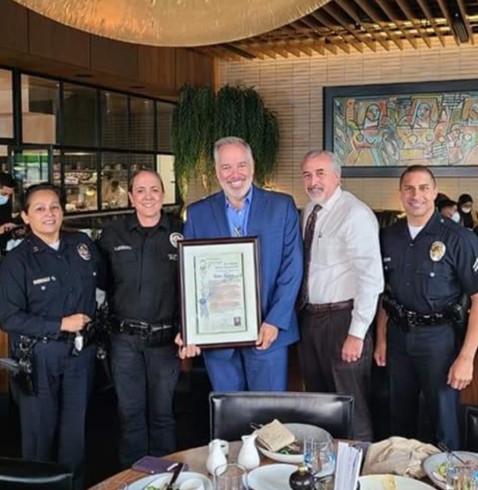 About Allied Universal
Allied Universal®, a leading security and facility services company, provides proactive security services and cutting-edge smart technology to deliver tailored, integrated security solutions that allow clients to focus on their core business. Through a global workforce of approximately 800,000 people, we leverage best practices in communities all over the world. With revenue at approximately $20 billion, we are supported by efficient processes and systems that can only come with scale to help deliver our promise locally: keeping people safe so our communities can thrive. We believe there is no greater purpose than serving and safeguarding customers, communities, and people in today's world. Allied Universal is There for you®. For more information, please visit www.aus.com.