Elevated Body Temperature Screening For Enhanced Workplace Safety
Overview
Returning to business operations amid a pandemic can be full of uncertainty. Allied Universal offers a variety of resources to help businesses secure facilities, adhere to health and safety guidelines, and develop unique solutions to help organizations through every phase of the transition process. Our solutions take into consideration the intricate details of reopening a safe work environment so you can focus on getting back to business.
Keeping your employees safe and healthy is our greatest priority. With over 60 years of risk-assessment experience and data-driven solution planning, Allied Universal is There for you™ while you adjust to the new normal for your business. Our manned guarding capabilities, risk consulting services and state-of-the-art technology provide real-time support so you can have the confidence in your safety programs and procedures to protect your employees during these demanding times.
SOLUTIONS
Allied Universal recognizes that every business is unique and therefore needs solutions that are specific to their needs and workplace. We have the resources, personnel, and technology to efficiently help guide you through the many challenges of continuing business operations through a pandemic.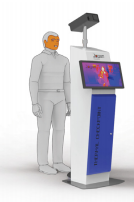 Our CARE Ambassadors receive extensive training and preparation to be exceptional resources for every business. In order to further protect your business during a pandemic, our CARE Ambassadors safeguard your workplace by regulating safe entry practices into buildings, encourage safe distancing practices, manage entrance and elevator procedures, and more. Combining Manned Guarding and advanced technology will meticulously protect your business from every standpoint. 
Our Risk Advisory and Consulting business can help design a security plan that is comprehensive and applicable to your exact needs while also taking into consideration the evolving risks and threats of a pandemic.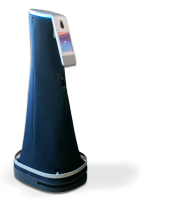 Contact our technology services for a 1:1 consultation, or for more information on the variety of state-of-the-art distance screening solutions we offer:
Temperature screening creates and supports a workplace environment that is safe for employees while helping mitigating the risk of spreading viruses, illness, and diseases
Thermal cameras with specialty software that provide a more accurate temperature reading system for real-time entry point elevated temperature detection.
Fixed thermal screening solutions offer fixed thermal imagers and smart scan stations to help detect elevated body temperatures.
Robotic and kiosk screening solutions that combine reliability of robotic technology with the personal problem-solving capabilities of humans to perform access control, screening functions, and communicate to employees. 
Handheld thermal screening solutions that are available and calibrated to target the highest temperature reading on a person's face to more accurately recognize elevated temperatures on the spot.