Please enjoy an updated version of this blog post, which was originally published in 2016.
Business owners and managers have openly expressed concerns regarding property crime and physical damage to buildings and corporate campuses. Rightly so, as the 2017 Freedonia Report states that property crime accounted for 87 percent of all reported crimes in the U.S. in 2015. 
Graffiti, broken windows and doors, theft and property defacement are not only unsightly and a nuisance, but also create fear and unease in employees and visitors. Often times, areas with property crime also experience personal theft. 
Property and personal crimes can have a ripple effect, impacting neighboring businesses and buildings, inviting criminal activity, decreasing property value and business traffic, and having an overall impact on brand reputation.
Unfortunately, every business or public agency is vulnerable to property crime, but working with your security provider to implement the following three steps, you will be better prepared to protect your assets:
 
1. Identify weaknesses
Is your business located in a high-crime area?

Are neighboring businesses having similar issues?

Does your business or building take part in controversial issues?

Does your business have a variety of guests/employees?

Do you lack physical barriers?
2. Implement solutions
Increase security patrols.

Update lighting, barriers and landscaping.

Integrate your physical security presence with technology solutions.

Utilize access control measures.
3. Execute response
Develop preventive measures for deterring vandals and thieves.

Involve the community and neighboring businesses in your planning.

Promptly communicate issues to law enforcement.

Track crime trends.
Make the commitment to prevent property crime before your business is adversely impacted. Above and beyond the occasional graffiti and petty theft, these criminal activity can escalate quickly and impact the entire community. 
To learn more about this hot topic, watch our on demand webinar, Escape the Ripple Effect: Prevent Property Crime in 3 Steps.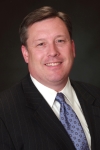 About the Author
  Charles Bohnenberger is Vice President of Government Services Business Development for Allied Universal. He is a former senior advisor to Pennsylvania Governor Tom Ridge.