Now that the major holidays are upon us, take a few minutes to extend your safety culture. This is not only the time of year for special celebrations, it's also prime for safeguarding your belongings and assets—especially those you've eagerly awaited as gifts or those you stowed away for that special loved one.
Therefore, it's important that your employees, colleagues, family and friends are aware of their surroundings and always on alert when partaking in seasonal activities, whether they are shopping, attending a large public gathering, traveling abroad or staying close to home.
Safe practices at work carry over into the community, and safe practices in the community carry over into the workplace. Here are several ways to stay vigilante so this time of year remains a joyous one:
While Shopping:
Park close to your destination, in a well-lit area and lock packages in the trunk, out of sight.

Carry your purse close to your body and stow your wallet inside a zippered pocket.

Report any suspicious activity or unattended packages to store/mall security or law enforcement.
At Your Workplace:
Report all solicitors or suspicious persons to security immediately.

Be suspicious of unfamiliar people claiming to be repair persons, as thieves are apt to disguise themselves.

Make sure your receptionist and/or security team clears any workers or contractors before allowing them into your office.
At Home:
Refresh your holiday lights; consider buying energy-efficient LED types that are cooler than conventional incandescent lights and heed indoor or outdoor use labels.

Point any decorative outdoor laser light devices at your home and not towards the sky.

Turn off lights or decorations before bedtime, or set automatic timers for six or eight-hour increments to conserve energy.
  
The holiday season is a time for cheer and happy occasions. Prepare your employees and communities so theirs remains one of merriment. Happy Holidays!
View more holiday and safety tips in our Resource Center.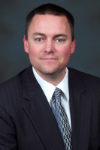 About the Author:
  Paul Stab is Vice President Sales Effectiveness & Training for Allied Universal