It seems like a simple question, right? Think of how many phone calls, office greetings, workplace conversations, or everyday run-ins we have where this question is commonly asked. These days, asking someone how they are doing has so much more meaning. When you ask, make sure you really listen and take the time to process what someone is saying, or how they are saying it. Often, we pass by without even really hearing what the other person may be saying. In today's time, we are all feeling some level of anxiety or fear as it relates to our everyday life. Things are not the same as they were at the start of the year, and we don't know where things will be in the future. With the pandemic, that fear and anxiety have drastically increased. According to a recent survey from State Health Access Data Assistance Center (SHADAC), 90.4 percent of U.S. adults reported feeling additional levels of stress specifically caused by the COVID-19 pandemic*.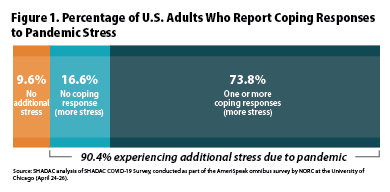 At Allied Universal, we constantly review and train on mitigating risk for our employees and property. This training can require a high level of focus and attention and eventually strain an employee or cause mental stress. COVID-19 has acerbated this stress with the need for increased safety measures such as isolation, social distancing, and other public health restrictions. According to the CDC, stress during a pandemic or an infectious disease outbreak can sometimes cause the following**:
Fear and worry about your own health and the health of your loved ones, your financial situation or job, or loss of support services you rely on.
Changes in sleep or eating patterns.
Difficulty sleeping or concentrating.
Worsening of chronic health problems.
Worsening of mental health conditions.
Increased use of tobacco, and/or alcohol and other substances.
As your trusted partner in security, we are all in this together and need to look out for one another surrounding mental health. We take our security and safety very seriously, and we want to spread a message of support and encouragement during this time.  We have to be vigilant and empathetic towards our fellow employees, visitors, and guests. To battle this concern, knowledge is the key. We all respond to stress in different ways.  By working together we can all be better prepared to identify and cope with stress by doing some of the following**:
Take care of your emotional health. Taking care of your emotional health will help you think clearly and react to the urgent needs to protect yourself and your family.
Take breaks from watching, reading, or listening to news stories, including those on social media. Hearing about the pandemic repeatedly can be upsetting.
Take care of your body.
Avoid excessive alcohol and drug use.
Connect with others. Talk with people you trust about your concerns and how you are feeling.
Mental health is an important part of overall health and well-being. Mental health includes emotional, psychological, and social well-being. It affects how we think, feel, and act. It also helps determine how we handle stress, relate to others, and make healthy choices. Mental health is important at every stage of life, from childhood and adolescence through adulthood. Some may suffer from preexisting conditions and others may be more vulnerable during this pandemic.  Remember, there are free and confidential resources for you, a co-worker, or a loved one to connect with a skilled and trained counselor in your area.
We have all been stretched thin over the past few months adapting to a "new normal" life in terms of political changes, unemployment, kids schooling from home, and pandemics.  Let's take the first step in helping keep each other safe and secure by not just asking, "how are you doing today?" but, take the time to listen and respond. 
*https://www.shadac.org/sites/default/files/SHADAC_COVID19_AmeriSpeak-Stress%20Brief_May2020.pdf
**https://www.cdc.gov/coronavirus/2019-ncov/daily-life-coping/managing-stress-anxiety.html
About the Author 
Adam Serna is Director, Chemical/Petrochemical/Utilities for Allied Universal.  He can be reached directly at adam.serna@aus.com for any questions you may have.