There is change afoot in how we define intelligence and the value we place on a high IQ in the workplace. Organizations are realizing being the smartest person in the room means nothing if no one likes you. EQ, or Emotional Intelligence, is on the fast track to being an employee's most valued currency, paying dividends for employers in the ways of increased employee engagement, trust and morale—and of course, business success.
Emotional Intelligence was first articulated in 1920 by psychologist Edward Thorndike who believed that being able to "act wisely in social relations" was a fundamental component of overall intelligence. More recent leaders in the topic, Peter Salovey and John D. Mayer defined emotional intelligence as "the ability to monitor one's own and others' feelings and emotions, to discriminate among them and to use this information to guide one's thinking and actions."
EI can be broken down into the following domains, with supporting competencies for each. The domains are:
Self-Awareness
Self-Management
Social Awareness
Relationship Management
Impact of an Emotionally Deficient Workplace
I often speak and write about the topic of workplace violence. And I continue to believe that the most important area of workplace violence that can be studied and that organizations should be training on, are warning signs and behaviors.
It might be a slight generalization, but I do believe it is safe to say that most workplace violence offenders struggle with several significant competencies within the EI framework. And yet, they may be very emotional individuals; in other words, they have the capacity to be quite emotionally intelligent.
The news is not all bad. In fact, perhaps the greatest fact about EI is that it can be developed. While intellectual growth becomes, to a certain extent, fixed in adulthood, studies have shown that EI competencies can be developed.
How to Build EI in Your Team
Development of EI competencies occurs when your employees are provided with training, coaching and experiences emphasizing the integration of the most important competencies for the role.
Training: Provide training through a skilled trainer well-versed in EI and the development of core competencies for your unique business setting. Also, not to be overlooked, utilize online training tools—webinars and modules.
Coaching: The key to successful coaching is to begin with a learning orientation, not a performance orientation. In other words, if your coaching is, 'do it because I said you need to', it won't be impactful. Mandated change does not stick. We change when we want to or when we realize we need to. The 'coachee' needs to own the change.
Experiences: The most important component of development comes from our experiences. With training as a foundation and coaching as framework of support, new experiences will develop the muscle needed to grow. Experiences will test both their cognitive abilities and emotional competencies.
Keys to the Kingdom
Studies have found that emotions are contagious. The positive emotions of happiness, hope and optimism, along with negative emotions like anger, frustration and disgust, will often move from one person to another, or from a leader to the team. 'Smile and the world smiles with you.'  Great leaders inspire and motivate those around them. Inspiration and motivation are driven through emotions. The job of the leader is to drive emotions in the right direction.
I will finish where we started, IQ or EQ? So who is the smartest person in the room? Let's look to history for an example:
Benjamin Disraeli and William Gladstone were both brilliant and they were also both competing for the position of Prime Minister of the United Kingdom.
But there were differences that were perhaps best summed up by a woman who had dinner with both men just prior to the election.
When asked her opinion of the two men, she said: "When I left the dining room after sitting next to Gladstone, I thought he was the cleverest man in England. But when I sat next to Disraeli, I left feeling that I was the cleverest woman in England."
I'll leave you to Google to find out who won.
About the Author: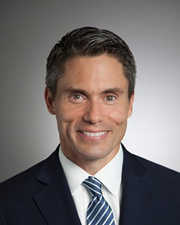 Brent O'Bryan, Vice President of Training & Organizational Effectiveness
Brent has over two decades of experience recruiting, hiring, managing, coaching and developing employees at all levels for Allied Universal. As a certified DISC coach, Emotional Intelligence ESCI 360 Coach, Situational Leadership instructor and a Consultative Selling Skills trainer, he designs and implements programs for culture and change management, coaching skills and leadership development.  Brent earned a BA in Psychology from Calvin College and an MSA in Human Resource Management from West Chester University.
Attending the 2019 Global Security Exchange in Chicago this year? Be sure to hear Brent's presentation How to Use Emotional Intelligence to Build a World Class Security Program Wednesday, September 11, 3:45 pm