As the country prepares for the 2016 Republication and Democratic National Conventions in Cleveland and Philadelphia, respectively, this summer, the potential exists for nationwide political protests and demonstrations. In what many consider one of the most explosive and extended presidential election seasons in recent memory, it is important for business leaders to ensure that their emergency preparedness planning addresses the potential for election-related civil unrest.
As we have seen during this long and heated political season, there has been a surge of demonstrations, protests, rallies and acts of civil disobedience around the country. If large, boisterous and unruly crowds gather near your work environment, employees and visitors could be at risk if the event spirals out of control. It's important to prepare ahead of time to ensure that your organization can effectively protect your employees and property.
Employees acting inappropriately face the potential risk of being captured on cell-phone video and placed on a broad spectrum of social media, then shared instantaneously for the world to see. To avoid the negativity of social media repercussions, it is important to establish and communicate a code of conduct for all employees.
It's vitally important for building managers and security personnel to collaborate with local law enforcement in advance of potential protests and demonstrations. When you have the luxury of advance information about a demonstration, protest or other event, all possible measures must be taken to translate that information into a plan to help ensure safety and security.
Ensure that all closed-circuit televisions and cameras are operational. Whenever possible, arrange for employees to telecommute. Make secure parking or transportation arrangements for employees that need to be on-site. Enforce strict access control policies and communicate procedural changes. Identify circumstances that may prompt facility lock-downs and ensure that emergency kits are on hand with supplies for all employees.
While most protests are peaceful, a calm gathering can transform quickly from tranquil to bedlam, making the need for preparedness essential. As we approach Business Continuity Week, May 16 – 20, now is the time to review preparedness plans and ensure that all potential threats are covered.
View Demonstration and Protest Preparedness Resources >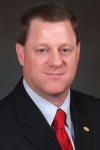 About the Author
  DelMar Laury is the MidAtlantic Region President for Allied Universal.