There is a continuous and ongoing push to develop technologies that make our lives safer and more efficient. Stewart Brand once cautioned, "Once a new technology rolls over you, if you're not part of the steamroller you're part of the road." In consideration of the Chemical, Petrochemical and Utility (CPCU) industry, technology adoption has less to do with a lack of understanding but rather invention is outpacing the ability to regulate it and correctly identify potentially problematic factors that could negatively impact the safety and security of people and places.
Unmanned Aircraft Systems (UAS), or drones as they are more commonly referred to, are compact in size, have the ability to hover closer than a helicopter, can discreetly maneuver tight areas and provide a bird's eye perspective of operations. More importantly, with safety at the crux of the CPCU industry, drones have the ability to go safely where people sometimes cannot.
Adoption of drones is tricky for the CPCU industry. Most sectors of the industry are bound to comply with federal and agency mandates. So while drone technology may offer advantageous solutions that serve to improve safety and security, reduce instances of human error and enhance operations, a lack of regulatory control presents a major hurdle and is an impediment to adoption.
Recent changes in legislation, particularly Part 107 of Small Unmanned Aircraft Regulations, are marking a turning point for the industry and opening the door to the unique safety and cost-saving advantages of drones. Michael Lichko, Vice President of Sales, with Allied Universal's partner DroneCore, shared, "Artificial Intelligence and automation have been a tremendous catalyst for moving commercial drone regulations forward over the past year.  It's important to remember that the rules created by Part 107 were really written around increasing safety for manned drone operations.  However, the software and hardware advances of systems like our DroneCore platform have allowed for rapid approval of nighttime operations and the coveted BVLOS waiver, as evidenced by the recent approval granted to the Chula Vista PD for public safety operations early this year."   
With more structure and regulation in place as well as evidence of successful operations outside the United States across all industries, several oil and gas industry leaders have moved beyond the experimental phase of drones to leading the industry in adoption by developing their own drone programs. It's a move that is providing big ROI from what is proving, by comparison, a small investment in technology enhancements.
Shell shares how the use of drones in their operations has helped facilitate safer and more frequent inspections of equipment by using drones instead of personnel when inspecting hard-to-reach or dangerous areas such as flaring stacks. It's a smarter way to achieve better results--allowing personnel to stay safely rooted to the ground while the drone does the dangerous and heavy lifting reduces risks for injury while enhancing compliance. In other instances, drones have helped the industry recover more quickly from natural disasters. Following the widespread destruction of Hurricane Harvey several oil and gas industry leaders leaned on the technology of drones for reconnaissance missions to identify damage to infrastructure and assist in prioritizing emergency response to their region.
It is exciting to see the CPCU industry making strides in embracing technology that will serve to strengthen the industry's ability to create and deliver products and resources that facilitate economic growth and sustainability more safely and efficiently. At this year's annual Energy Security Council Conference in Austin, TX, I had the opportunity to participate in a knowledge sharing session with CPCU industry leaders regarding the use of drones to augment onsite security—whether for patrolling remote locations or assisting in incident management and response.
A few weeks following the conference, while visiting one of our refinery clients, I was pleasantly surprised to see this in action—the blend of physical security with smart technology working to create safer, more secure environments. My meeting with Angela Best, Allied Universal Account Manager was delayed. Angela is a licensed drone operator and the client needed her to pilot a flight to inspect part of the processing area following an incident. She shared that she regularly flies the UAS for all types of facility, security and safety missions. "We utilize our drones weekly, whether it's to inspect equipment, monitor areas of the perimeter, or to observe illegal hunters on the property. Using the drones allows us to do all of this in a manner that doesn't put people in harms way. It's all about how we can achieve the same goal, safer."
While drones provide advantageous cost savings, I think the greatest value drones and new technologies have to offer the CPCU industry is how much safer it will make the work place for people.
About the Author: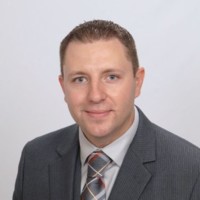 Jason Gordon is Manager, Chemical/Petrochemical/Utilities for Allied Universal.