A short six months ago, Allied Universal formed as a result of two strong entities that combined to create a world-class organization. Under our new identity, we strive to provide unparalleled service, systems and solutions to serve, secure and care for the people and businesses of our communities, putting our relationships with our employees and clients at the heart of everything we do each and every day.
The key to living up to this mission is to stay focused on smart goals, while building a winning culture that all employees can buy into and look to for guidance along the way. A successful team achieves its goals by abiding by a set of specific core values predicated on leadership behaviors and employee standards.
Allied Universal's leadership team is guided by these principles:
 
United as a team. We put our employees first to serve our clients best. We discuss ideas and solutions openly and vigorously, but execute as one.

Nimble, fast and responsive. We aim for clear accountability and empowered decision making. Being action oriented is our goal, along with being in the field, not in the office.

Client focused. We evaluate decisions and actions relevant to client impact, and present an integrated solution to the client.

Obsessively focused on results. We strive for clear metrics: client retention, new business growth, EBITDA (earnings before interest, tax, depreciation and amortization), non-billed overtime. We reward achievements and make the right trade-offs across short and long-term objectives.

Efficient and effective. We offer outstanding support and minimal bureaucracy, and build smart processes.
   
Together with our leadership team, administrative employees, service and security professionals across all our divisions and service areas, we strive to live by these core values in achieving our goals, both internally and externally.
In that way, whether it's an alarm installer, janitor, human resource coordinator, business development manager, vice president, account manager or security officer, we are all working as one to be phenomenal in our roles wherever and whenever our clients need us.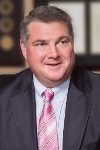 About the Author
  Steve Jones is CEO of Allied Universal.